Whether you are brand new to the game of golf or a seasoned golfer looking to take your game to the next level, let Swing Evolutions help get you there! Combining state of the art technology with certified instruction, we can help you achieve all of your golfing goals! We offer various lesson platforms including individualized 1 on 1 instruction, group lessons and golf clinics.
Meet our Instructor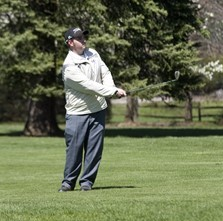 Email:
mattreedgolf@gmail.com

Phone:
484-525-0168

Matt is an avid golfer, looking to spread the love of the game. His passion for the game was quickly ignited after starting to play in high school. His competitive play continued to the Lebanon Valley College golf team, where he took on the role of Captain. After suffering a knee injury during his senior season, Matt began helping his fellow teammates from the ropes. This position sparked his interest of becoming an instructor. This original setback directed Matt to achieve the Class A Master Teaching Professional certification through the Professional Golf Teacher's Association of America (PGTAA).
He is now ready to help other players improve their game – making their time on the course even more enjoyable. The foundation of a great golf game lies in understanding YOUR swing. This does not require a one-swing-fits-all approach. Whether you are looking for a full swing change or simply wanting to focus on a specific area of your golf, Matt will help you bring out your best game. This will lead to the confidence in your swing to play any course. Feel free to reach out to Matt today.